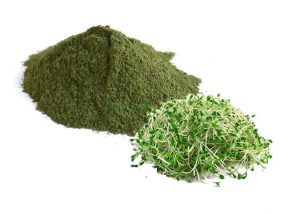 Alfalfa Powder
Alfalfa is a green super food abundant in vitamins, minerals, and chlorophyll.
Alfalfa Powder can be blended into vegetable juices or used in baking.
Item Number: SR035
In Stock!

 Ask for a sample!!!
Overview 
Alfalfa powder is made from fresh alfalfa leaves (Medicago sativa). YesHerb organic alfalfa powder is rich in chlorophyll, carotene, protein, calcium and other minerals, vitamins in the B group, vitamin C, vitamin D, vitamin E, and vitamin K.
Benefits
Lowering Cholesterol
Neuroprotective Effects
Treatment of Osteoarthritis and Rheumatoid Arthritis
Promotes Menstruation and Lactation
Some Application
Health care products, health nutrition, infant food, solid drink, dairy products, convenient food, puffed food, seasoning, medium and old food, baked food, leisure food, cold food, and the cold drink, etc
General Analysis
Identification
Identical to sample
Conforms
Loss on Drying

≤ 

5.0%

Eur.Ph.6.0 [2.8.17]
Conforms
Ash

≤ 

7.0%

Eur.Ph.6.0 [2.4.16]
Conforms
Contaminants
Solvents Residue
Meet Eur.Ph6.0 <5.4>
Eur.Ph6.0 <2.4.24>
Conforms
Lead (Pb)

≤ 

1.0mg / kg

Eur.Ph6.0 <2.2.58> ICP-MS
Conforms
Lead (As)

≤ 

1.0mg / kg

Eur.Ph6.0 <2.2.58> ICP-MS
Conforms
Cd (Cd)

≤ 

1.0mg / kg

Eur.Ph6.0 <2.2.58> ICP-MS
Conforms
Hg (Hg)

≤ 

1.0mg / kg

Eur.Ph6.0 <2.2.58> ICP-MS
Conforms
Microbiological
Total Plate Count

≤ 

1000 cfu / g

USP30
Conforms
Yeast & Mold

≤ 100 

cfu / g

USP30
Conforms
E.Coli.
Negative
USP30
Conforms
Salmonella
Negative
USP30
Conforms
Xi'an SR Bio-Engineering Co., Ltd
Xi'an SR is a professional wholesale provider of many quality herb nutritional supplements products such as Maqui Berry Powder, Saw palmetto extract, Dihydromyricetin(DHM) and more…learn more