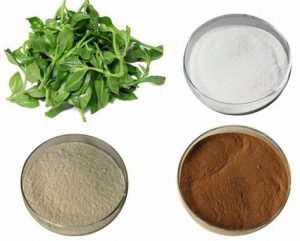 Andrographis Paniculata Extract Powder
(Powder, Tablets and Capsules)
1.Latin Name: Andrographis paniculata (Burm. f.) Nees
2.Appearance: Yellow Powder
3.Specification: 10:1,Andrographolide 10% 15% 20% 99%
4.Certifications: HALAL,KOSHER,ISO22000,SC,BRC(ORGANIC)
5.Used Part:Leaf
6.Packaging:1kg/bag or 25kg/Drum or Customised Formulation
Overview 
Andrographis is a genus of flowering plants in the acanthus family. They may be known generally as the false waterwillows, and several are called periyanagai.
Most species are native to Asia. Many are endemic to India. They may be herbs or shrubs.
Some species are used medicinally. The best known is Andrographis paniculata, which is valued in Ayurveda, Unani, and Siddha medicine. It is used to treat a very long list of illnesses and conditions. A. alata and A. lineata are used in human and veterinary medicine.
Andrographis paniculata is undeniably one of the most popular medicinal plants used for the effective treatment of an array of diseases.  The andrographis paniculata extracts is used to treat diseases including diabetes, cancer, high blood pressure, ulcer, as well as leprosy. Andrographis paniculata is also proven in treating bronchitis, colic, skin diseases, dyspepsia, flatulence, malaria, dysentery, as well as influenza since one can remember.
You can place your order for natural andrographis paniculata from the best andrographis paniculata extract supplier here!
It is not clear how many valid species currently belong to the genus.
The main ingredient of Andrographis Paniculata Extract Powder is andrographolide. Andrographolide is a labdane diterpenoid that is the main bioactive component of the medicinal plant andrographis paniculata. Andrographolide is an extremely bitter substance extracted from the stem and leaves of the andrographis paniculata. When in bloom, Andrographis exhibits small white flowers. The plant is grown for medicinal purposes in China and India. Andrographolide has been shown to be effective against certain cancers and is an effective purgative.
Some Application
1. Andrographis paniculata extract powder can be applied in pharmaceutical field, it is usually made into tablets, soft capsule, injectio, etc. to treat acute bacillary dysentery, gastroenteritis, cat fever, amygdalitis, faucitis, bronchitis, pneumonia, phthisis and so on.
2. Andrographis paniculata extract powder can be applied in veterinary field, it is made into pulvis to treat acute bacillary dysentery, gastro-enteritis and pneumonia of poultry and livestock.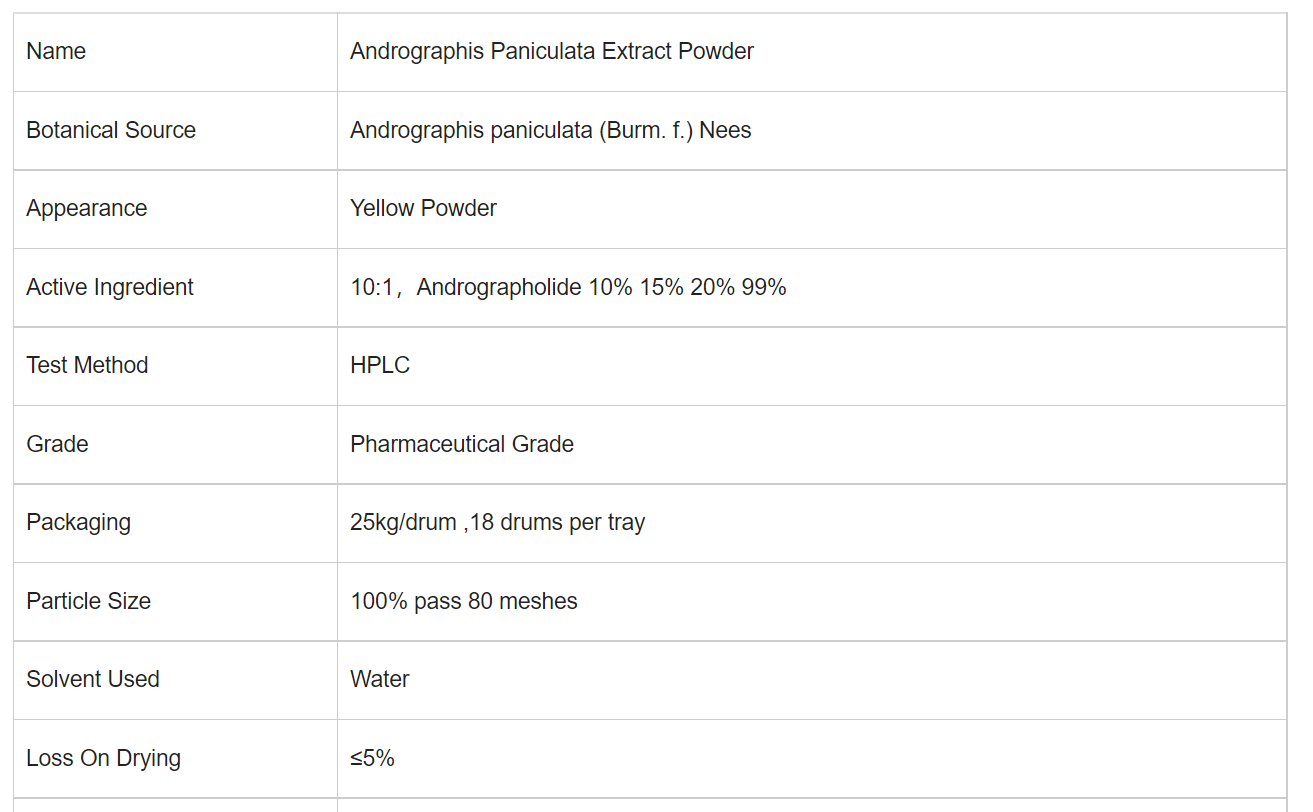 Xi'an SR Bio-Engineering Co., Ltd
Xi'an SRBio is a professional wholesale provider of many quality nutritional supplements products and  AMINO ACID Powde etc.
We supply powder, tablets and capsules.